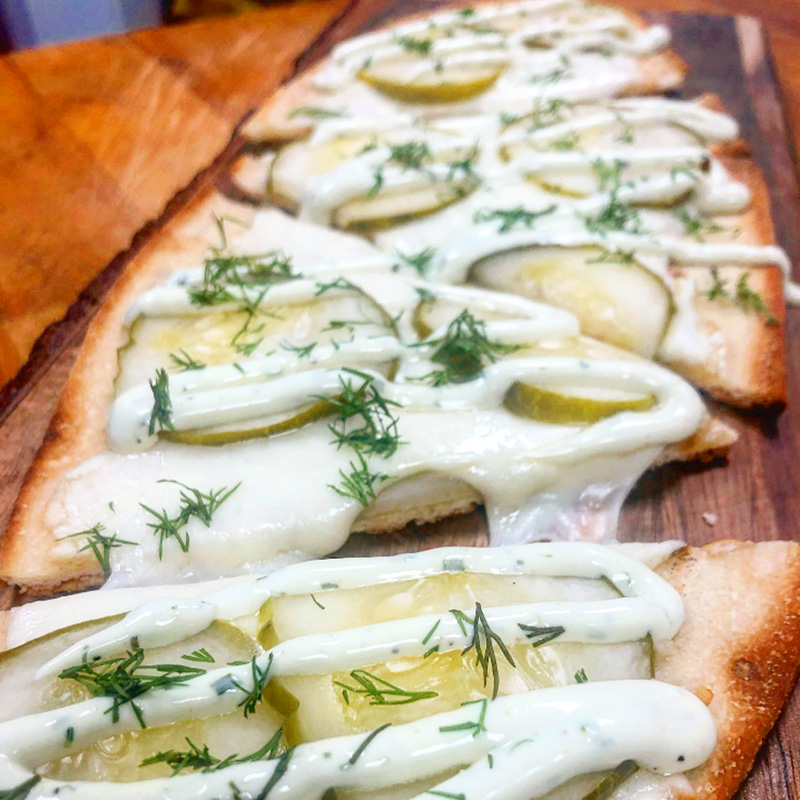 Date Released: Feb 27, 2020
Introducing the Marty Lawstoka. Grilled flatbread topped with fresh mozzarella thinly sliced deli pickle, house made buttermilk avocado ranch, fresh dill.  
Big Marty was a regular back in our Dolly's days. Tall imposing figure but a real sweetheart type guy. Funny and had great laugh.
Marty was a St James graduate where he was a very good forward on the basketball team. Used to tell stories about playing against Big John Thompson back in the day.
Marty was famous for popping in for one on his way to all kinds of innocuous places. Laundromat, Wawa, Car Wash, you name it would represent an opportunity to share a quick story and laugh and be back on his way. Marty passed away too young. He'd be right at home in Manoa.
Additionally he had the craziest horse racing betting system known to man. The 2,5,7,8 with the 4,7, with the 9, with the 1,5,7,9 might be a typical superfecta ticket.  If he hit them they were doozies. Still known as the Lawstoka special during Manoa guys Saratoga treks. #lawstokaspecial, #bigmarty
Weekly Specials & Menu Updates