Family Style Dinners
& Mini Meals
Chef Andrew has devised a meal program that will serve a family of five. Mini meals will serve 2 - 3 people. There are multiple choices and each come with sides.
All meals can be picked up with heating instructions. Limited quantities will be available each day and advance orders will be accepted over phone at 484-455-7448.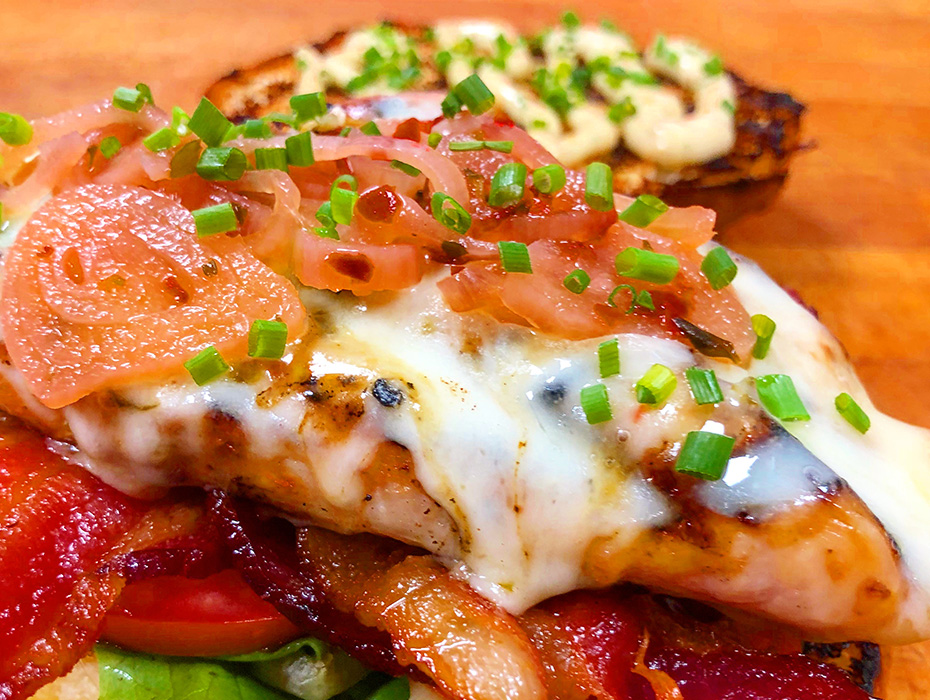 PepperJack Chicken
Flame Broiled Chicken, Pepper Jack Cheese, Applewood Smoked Bacon, Plum Tomatoes, Spring Mix, Pickled Shallots, and Smokehouse Maple Aioli, on a Toasty Brioche Bun.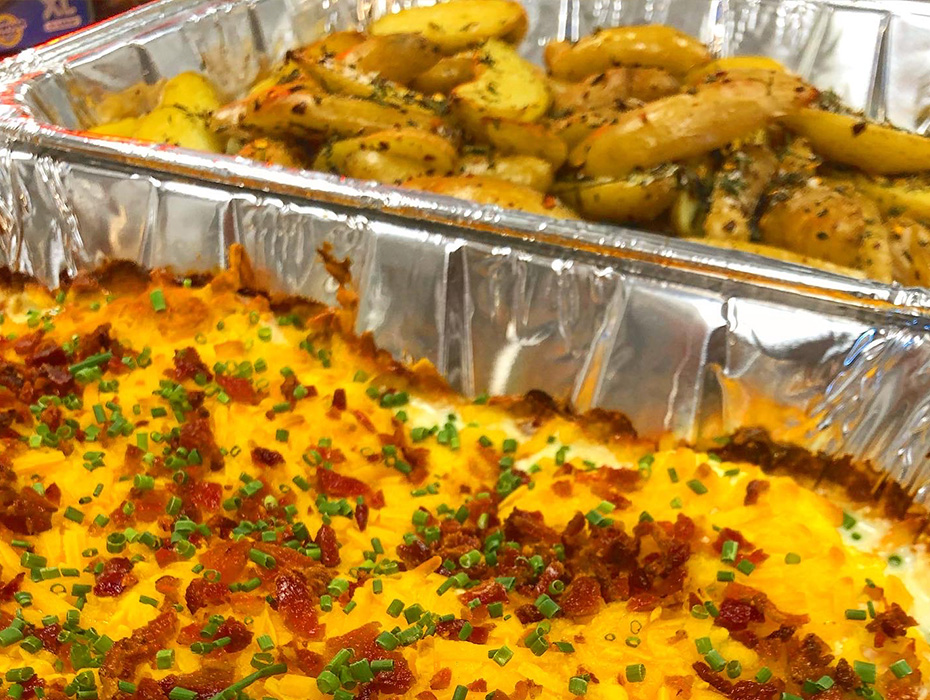 Chicken bacon Ranch
Chicken Bacon Ranch Casserole. Chicken Breast and Scallions in a Hidden Valley Ranch Cream Cheese, Topped with Sharp Cheddar and Applewood Smoked Bacon. Also comes with a side Herb Roasted Fingerling Potatoes and a House Salad.
APPS
Emmett Long - 9
Mongolian Cheesesteak Egg rolls
Mongolian marinated beef, scallions, sweet chili ketchup and Cooper sharp.


Chick Welde - 10
Twice Cooked Wings
House marinated wings, baked then fried, tossed in WF Manoa Sauce, garnished with carrots & bleu cheese or ranch dressing.
Margie Gormley - 8
Chicken Fingers
Fries with BBQ or Honey Mustard

Bob Kelleher - 9
Chicken Bites
Crispy mini chicken bites fried and finished in any of our five house sauces.
5 Sauces
Try our twice cooked wings, battered cauliflower or chicken bites in any of our signature sauces:
Chili Honey / Sesame Teriyaki / Buffalo / Korean / Ghost Pepper Xtra Hot
salads
Additions: $4/Chicken, $6/Shrimp,
$6/Salmon, $7/Crabcake, $5/Crabmeat
Nona Hamilton - 9
Spring Mix
Spring Mix, Red onion, local blueberries, red delicious apple, goat cheese and candied walnuts in honey balsamic vinaigrette.
Loretta Jennings - 8
Caesar
Romaine, shaved parmesan, crispy parmesan tuile, semolina crostini, dressed with house-made creamy Caesar
Jim Good - 10
The Wedge
Iceberg, roasted cherry tomatoes, shredded pepperjack, thick cut candied bacon, dressed with house-made avocado-buttermilk ranch
flats
Joe Romano - 8
Flatbread
Grilled flatbread topped with traditional marinara, fresh mozzarella, shaved garlic, leaf basil, and shredded Grana Padano.
Bucky Antell - 7
Quesadilla
Flour tortilla stuffed with cheddar and pepper jack cheese served with sriracha sour cream and fresh jalapeno salsa.
Add shredded chicken for $2
SANDWICHES
Marty Lyons - 14
Crabcake
Pan seared and broiled house-made jumbo lump 6oz. crabcake with spring mix, plum tomatoes, red onion, topped with sweet chili glaze.
Available in 3 slider format for additional $1
Patio Paul - 10
Fried Chicken
Our signature chicken sandwich is battered in house and cooked crisp, with spring mix, plum tomatoes, pickled red onion, topped with Mike's Hot Honey.
Dan Brown - 11
Roast Beef
Seasoned & roasted, topped with fried shallots, provolone, horseradish parsley aioli and au jus.
Joe Leonard - 11
Roast Pork
Herb & garlic crusted, sautéed spinach, blistered peppadew peppers, sharp provolone and au jus.
Shag Crawford - 13
8oz. WF Manoa Burger
Our signature burger grilled your way, with Cooper sharp, caramelized onions, blistered shishito peppers, black peppercorn bacon jam, garnished with spring mix and plum tomatoes.
Available with Chicken Breast or Turkey Burger
Available in 3 slider format for additional $1
Build Your Own Sandwich - 10
Chicken

Available Fried or Grilled with Lettuce, Tomato, Onion in any of our five house sauces

Burger

8 oz Beef or Turkey Burger grilled your way with Lettuce, Tomato, Onion
Specialty toppings & Cheeses - $1
Bacon, Caramelized Onions, Long Hot Peppers, Shishito Peppers, Peppadew Peppers, Yellow Bell Peppers, Fried Shallots
Cheeses: Cooper Sharp, Gorgonzola,
American, Provolone, Sharp Provolone, Swiss


Consuming raw or under cooked meats, poultry, seafood, shellfish, eggs or unpasteurized milk may increase your risk of food borne illness.